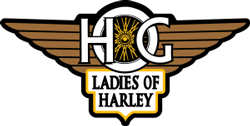 Ladies of Harley Activities
Old Town Chapter's LOH Director, Renee Adkins, provides creative and fun ways to keep our ladies entertained. Come on and join the fun!
Come out to help with the 2023 P4P Quilt - Kathy Reimann has offered to lead us through another quilt for a great cause. Dates below.
May
May 16 @ 7pm: LOH Meeting and Tuesday Night Dinner Ride, Miller's Ale House in Brandon
including a silent auction for a Vera Bradley wristlet that has been donated to LOH
May 31 @ 6:30pm – 9pm, LOH Paws for Patriots Quilt. Please join us for quilting, laughter and sandwiches
June
June 7 @ 6:30pm – 9pm, LOH Paws for Patriots Quilt. Please join us for quilting, laughter and sandwiches
June 13 @ 7pm: LOH Meeting and Tuesday Night Dinner Ride, Miller's Ale House in Brandon
including a silent auction for a Coach Wallet that has been donated to LOH
July
July 11 @ 7pm: LOH Meeting and Tuesday Night Dinner Ride, Miller's Ale House in Brandon
July 25 @ 6:30pm – 9pm, LOH Paws for Patriots Quilt. Please join us for quilting, laughter and sandwiches
Please contact:
Renee Adkins
Ladies of Harley
This email address is being protected from spambots. You need JavaScript enabled to view it.