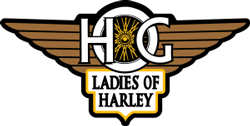 Ladies of Harley Activities
Old Town Chapter's LOH Director, Renee Adkins, provides creative and fun ways to keep our ladies entertained. Come on and join the fun!
Come out to help with the 2023 P4P Quilt - Kathy Reimann has offered to lead us through another quilt for a great cause. Dates below.
October: UPDATE ON "CancerReallySucks RIDE"
"CancerReallySucks" ride on Sunday, October 22, was a great success with 29 bikes, 37 riders and $500 in donations to the Breast Cancer Research Foundation. Thank you all that came out to support this ride.
November:
Kick Off the Holidays - Party will be on November 12th from 2 p.m. - 5 p.m. There is no charge to attend. Please RSVP to Renee if you are planning to attend.
Deborah Speicher is leading a non-chapter ride to "The Barn" on November 25—this is the return of her traditional Saturday after Thanksgiving ride, to include lunch and shopping. Chase cars are welcome!
Yard Sale
Is anyone interested in participating in a yard sale after the holidays? We still have a significant amount of Harley merchandise (shirts, luggage, helmetsts, etc) that has been donated. You can recycle from your house as well!
Please contact:
Renee Adkins
Ladies of Harley
This email address is being protected from spambots. You need JavaScript enabled to view it.