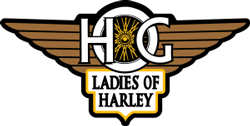 Ladies of Harley Activities
LOH meeting: Tibby's May 18th, please wear yellow to celebrate Tim Griffin's bday
May - 5/12 - 6:00 p.m. - 8:00 p.m. Night of Beauty with Mary Kay Rep. At Brandon Harley Davidson training room. No obligation to buy just a fun girls night. BYOB and get beautiful and have a slice of pizza. See me if ya want to attend.
5/20 - LOH Virtual Meeting - invite to follow via teams, hopefully no technical difficulties
June - SAVE THE DATE**** 6/2 – Prep for Paws for Patriots quilting bee, we will be collecting t-shirts and working with Kathy Reimann to start this raffle item. Anyone that has sewing experience is needed, the rest of us will guided and instructed
6/10 - Burythehatchet, 939 Oakfield Dr, Brandon, FL 33511 – 7 p.m.– 9 p.m. - we have six confirmed to attend
Beer, Wine and Cider along with soda, water etc. is served and we can bring our own snacks/food
Cost is $36.71/person, we need at least 9 to get this pricing, watch the webpage for more info.
July: Cosmic Bowling or Shoot Straight
Quilting Bee follow up - TBD
Blood Drive - tenative
August - Quilting Bee follow up - TBD
September - Finalize Quilt for Paws - TBD
Road Captain Appreciation dinner
October - Breast Cancer Ride - all riders in PINK.
Date: 10/09/21
Road Captain: Leslie Monroe
Patch Ride
November - Gift Wrapping at Dealership
December - Gift Wrapping at Dealership
Brandon Dealership appreciation lunch or dinner
LOH Christmas Dinner
I have received a lot of suggestions for things to do. Keep the ideas coming! I have found the training room is limited to when we can schedule anything, if anyone has a location we can gather, please share and I will make a point to book an event. Please feel free to reach out if you have any ideas/suggestions.
See you all soon.
Denise Bell
(973) 534-7728
Check the Ride Calendar for additional details.