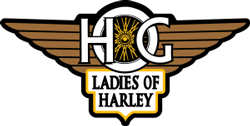 Ladies of Harley Activities
LOH meeting: O'Toole's Irish Pub
March 16th – wear green and come learn what we are up to. Special surprise for all ladies in attendance.
After our March meeting I will be sending out the meeting agenda and items discussed, this way everyone is in the know.
The LOH Virtual meeting left us with some challenges, but watch out for a BULLSHOT or email on another one.
Charles Tack Raffle Fundraiser - ALL ELIGIBLE Offer to win a trip for three for an air-bound excursion, value of $600. Chances to sign up at upcoming rides, February and March chapter meetings. Winner to be picked at the April chapter meeting, April 9th. $20/ticket Click here for Details


April - April 8th Pinot's Palette, Brandon- 7:00 - 09:00 p.m. $35/person Send me a message and we will get you signed up. Already 16 on the list, deposit has been made. Just in case you are unfamiliar with the idea, here is a link to the site.
May
- 5/12 - 6:00 p.m. - 8:00 p.m. Night of Beauty with
Mary Kay Rep
. At Brandon Harley Davidson training room
June - Open for ideas
October - Breast Cancer Ride - all riders in PINK.
Date: TBD
Road Captain: Leslie Monroe
Patch Ride - ladies to work on patch design
Conceal Carry Class - any interest??
Line Dancing - Kathy Price to host - learn in Brandon Harley training room and from there when the group is comfortable, go to Dallas Bull
Blood Drive at the Dealership – Ritchie has said okay, now need to plan a weekend so everyone can participate
Paws for Patriots - raffle a quilt made from Harley shirts. Kathy Reimann volunteered to sew, it will be about 25 shirts on one side and of course we will need all hands on deck to assist. We will get serious around June for this event.
December
- LOH Christmas Dinner
Please feel free to reach out if you have any ideas/suggestions.
See you all soon.
Denise Bell
LOH Officer
This email address is being protected from spambots. You need JavaScript enabled to view it.
973-534-7728
Check the Ride Calendar for additional details.