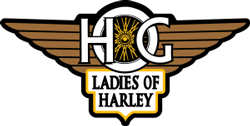 Ladies of Harley March Activities
LOH Meeting: April 9th - 7 pm @ Portillo's 1748 W Brandon Blvd, Brandon, FL 33511. The meeting will start when the riders arrive.
Self-Defense Class: April 10th - 7 pm @OTBHD (point given for everyone who shows)
Shooting Range: April 15th - 6pm @ Shoot Straight (3909 US 301, Tampa) - Ladies shoot for free on Mondays - Men are welcomed to join (Date & Time subject to change so check the calendar for updates)
Escape Room: TBD @ (952 W. Brandon Blvd. Brandon, FL. 33511) 813-643-9411
Check the Ride Calendar for additional details.
We are always planning more LOH events. Be sure to check back again later.
Cathy Hutchinson,
LOH Officer
This email address is being protected from spambots. You need JavaScript enabled to view it.
813.957.6041
---