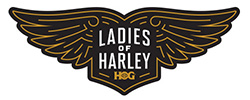 Welcome to the Ladies of Harley (LOH). LOH is group of female Harley-Davidson enthusiasts promoting activities and adventures from within a local Harley Owners Group (H.O.G.) Chapter. Whether you ride solo or as a passenger, the LOH helps promote ladies participation in the world of Harley-Davidson. The active members of LOH are a group of women who enjoy organizing and participating in social, travel and charitable events resulting in everlasting friendships, where laughter is heard and memories are made. LOH has something to offer everyone.
LOH IS OPEN TO ALL LADIES IN THE CHAPTER - YOU DO NOT NEED TO BE A RIDER TO PARTICIPATE
How do you become a member of Ladies of Harley? You must first be a member of the National H.O.G., then you can join your local chapter. You can be either a full or associate member. Ladies of Harley membership also allows you to participate in all LOH activities at various H.O.G. rallies and events. There is no additional fee to be a Ladies of Harley member.
Please note - you must be a current National HOG member. If you are not a National HOG member you can use the link below to go to the National HOG Website or call 1-800-CLUBHOG to join.
Ladies of Harley offers members a special embroidered patch and a pin during the first year of membership. Each renewal year, LOH members will receive an LOH pin indicating the year of membership.

Old Town Chapter's LOH Director, Renee Adkins, provides creative and fun ways to keep our ladies entertained. Come on and join the fun!
Please contact:
Renee Adkins
Ladies of Harley
This email address is being protected from spambots. You need JavaScript enabled to view it.
Join us the Tuesday following the OTC Meeting for dinner. The location is announced in the monthly Newsletter and in the ride calendar.